Field trip to the former golf links
This field trip invited the public to walk the former golf links and think about what is important for a nature discovery trail. A scientist from the Colorado Natural Heritage Program took a break from surveying for plants and animals to talk about her work.
Nature trail field trip
CLA helped organize a field trip for community members to visit the site of the proposed nature trail within the larger trail master planning area. There was informal discussion among attendees about possible interpretive messages to include, where to locate them, and how to accommodate ADA access. CLA wrote the guidelines for interpretive signage in the Trails Master Plan document.
Nature Trail Field Trip
At least 20 people attended the afternoon field trip, despite very warm weather. A large majority of local residents support the proposed Susan Kalman Peaks to Prairie Nature Discovery Trail. In the 1960's this was a 9-hole golf course, but by 2010, not enough golfers were using the 36-hole Hollydot Golf Course to justify maintenance of the original "back nine". The original golf clubhouse and 123 acres of former golf course are now managed by the Volunteers for Community, a nonprofit with a mission to provide more diverse cultural, recreational and educational options for residents of the Greenhorn Valley.
Trail Planning Workshop
An evening trail planning workshop attracted a number of interested local residents. We split into groups and talked about where people currently walk, bike and ride horses. At the end of the meeting, we compared the maps and shared observations. Several informal trails were mapped, which had not yet been identified.
Altitude Land Consulting managed the project and took the lead on public engagement, with the assistance of Cathleen Corlett.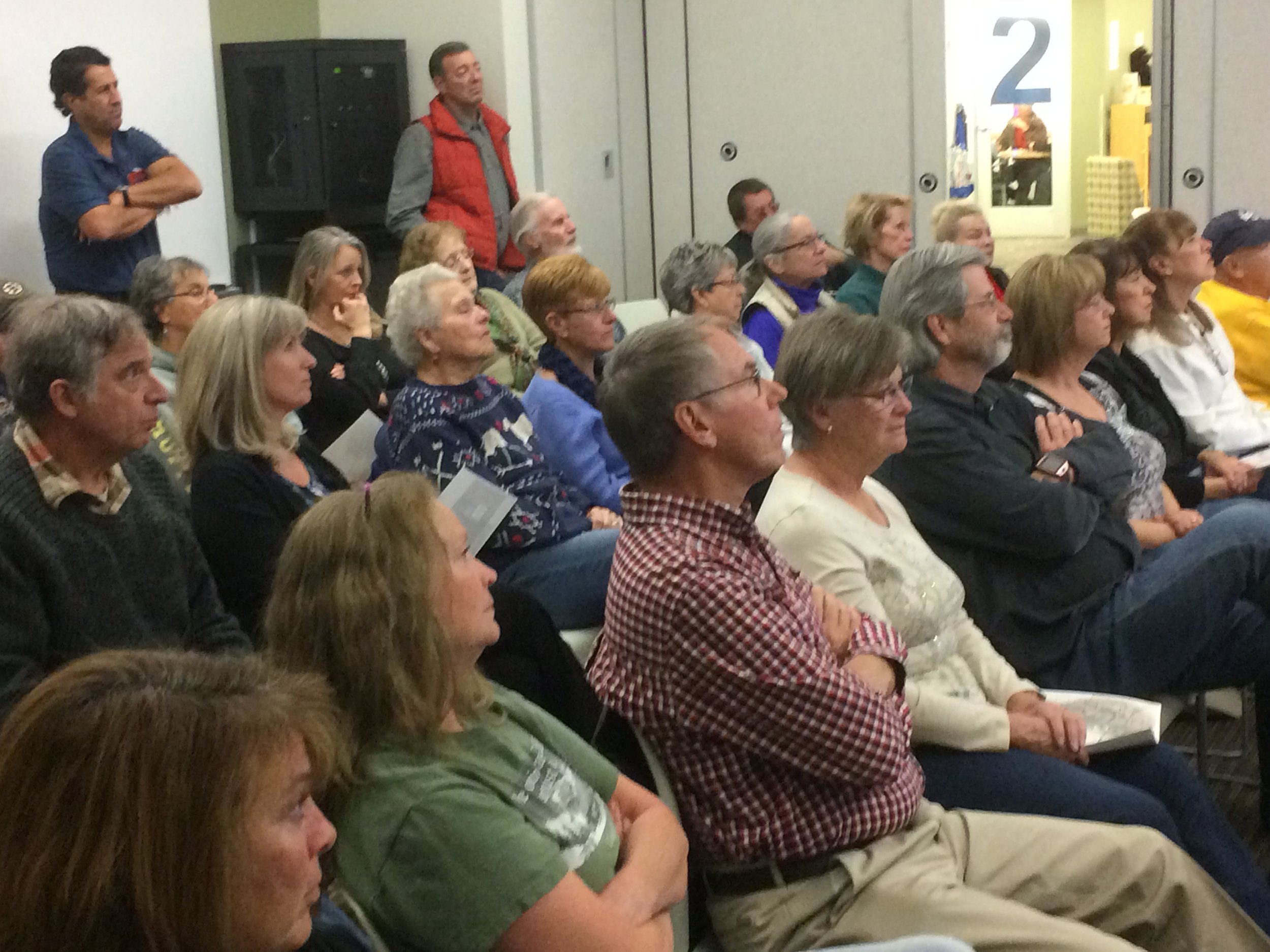 Public Master Plan Presentation
The Master Plan was presented to a standing-room-only crowd, including County Commissioner Terry Hart.
An important component of the master plan is the repaving of the existing trail around Lake Beckwith. Jeff Webb from Altitude Land Consultants and Cathleen Corlett present the plan recommendations.
Greenhorn Valley Trails Plan
More about Colorado City
Colorado City is located in Pueblo County, in the Southeast part of the state. At the foot of Greenhorn Peak in the Wet Mountains, Colorado City is where the plains meet the mountains. Antelope, black bear and cougar are frequently seen. Colorado City was envisioned in the 1960's as a utopian community. When it was discovered that there was insufficient water for the projected population, "dry" lots were swapped for those closer in.